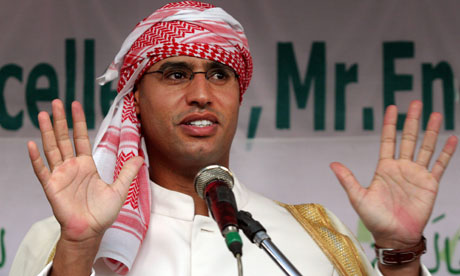 Saif al Islam Gaddafi

Since the death of Muammar Gadaffi last week, the whereabouts of his son heir apparent

Saif al Islam Gaddafi

,

has been a subject of intense media speculation.

Soon after Gaddafi's death, rebels of the NTC were reported as saying Saif, was in a convoy heading south towards the border with Niger. They also claimed to be hot on his trail pursuing him.

A video has since been released, apparently showing Saif Al Islam mobilising the few remaining soldiers loyal to his late father, urging them not to give up their land.

More recent reports from Reuters state that Saif al Islam is currently hiding amongst the nomadic Tuareg of Northern Niger. He has been offered sanctuary by the nomadic tribes who were once helped by his father.

According to the same source he is preparing to fly to The Hague to hand over himself to the international criminal court where he is wanted for war crimes.